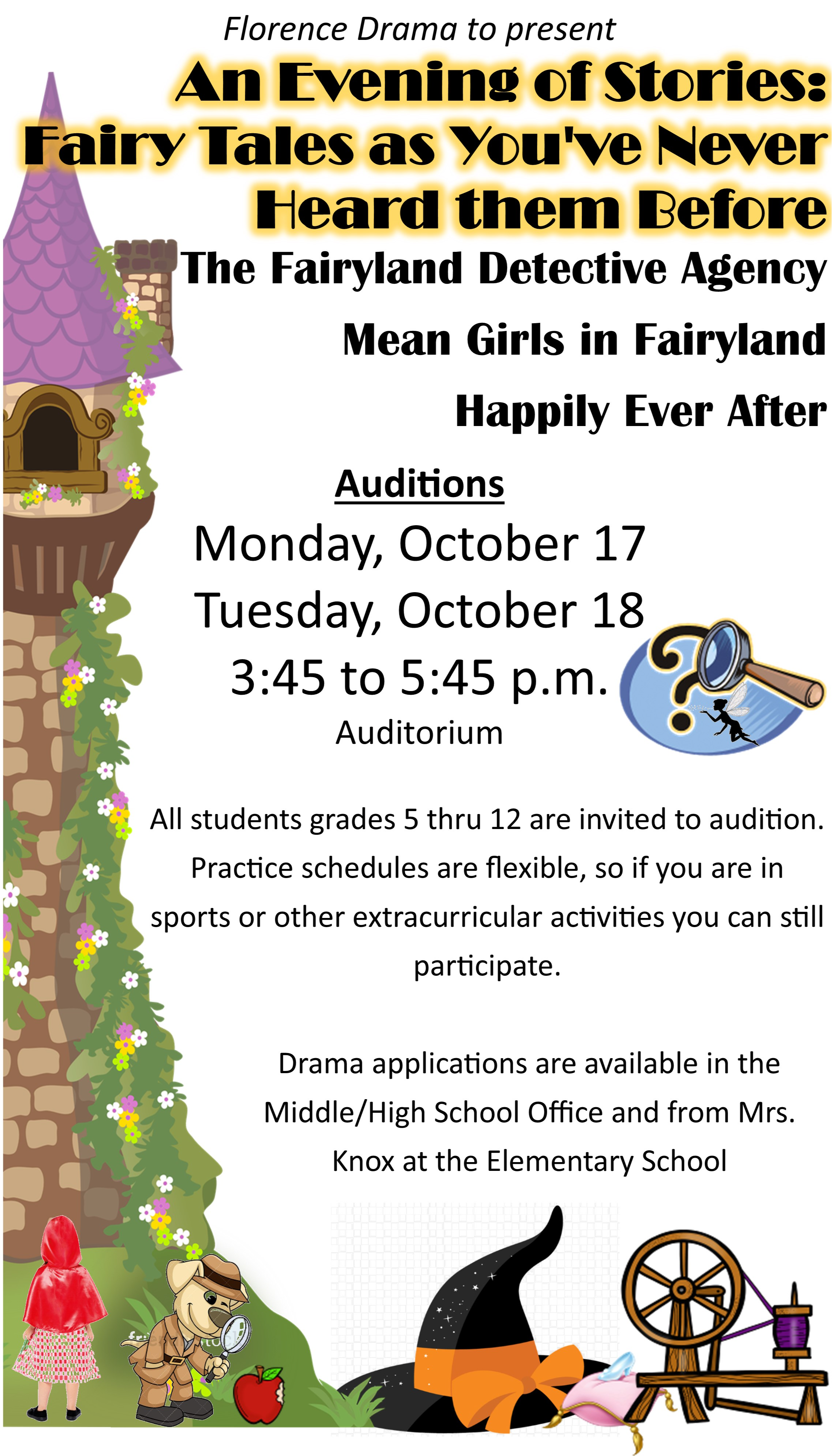 The Florence School Drama is announcing their 2022-2023 Drama Production "An Evening of Stories: Fairy Tales as You've Never Heard them Before." It will include three one-act plays featuring everyone's favorite fairytale characters. The productions include "The Fairyland Detective Agency" by Vin Morreale, Jr; "Mean Girls in Fairyland" by Jon Jory; and "Happily Ever After" by Forrest Musselman. The Florence Drama Production will be directed by Bri Knox & Jessica Klumpp.
Auditions will be held on Monday, October 17, and Tuesday, October 18, from 3:45 to 5:45 p.m. in the Florence High School Auditorium. Students are only required to audition once/on one of the days. All students in grades 5 thru 12 are invited to audition. Practice schedules are flexible, so if students are in sports or other extracurricular activities, they can still participate. If students are interested in drama but do not want to be on stage, the drama department is also looking for students to work backstage.
Drama applications are available on the school website, in the Middle/High School Office, and from Mrs. Knox at the Elementary School. Applications are due on Friday, October 14th at 3:30 p.m. Middle & High School Students turn applications into the Middle/High School Office. Elementary Students turn applications into Mrs. Knox.
Drama is open to those students in grades 5 thru 12 at Florence Elementary, Middle & High Schools. We will be tentatively looking at performance dates for the week of February 6, 2023. We will be doing a minimum of 3 one-act plays. Practice Schedules will be determined by the students involved and the other extracurricular activities (if any) they are involved in.
If you have questions about drama or are interested in participating, please email Jessica Klumpp at jessica_marie_klumpp@hotmail.com
Drama Advisor- Jessica Klumpp & Bri Knox