Tuesday, 6/29/2021
Hello and welcome Florence Bobcats,
My name is Karl Morrin and I am proud to be your new District Administrator. I am a native of Washburn, Wisconsin and loved growing up on the shores of Lake Superior. I graduated from UW-Superior (1995) with a B.S. in Physical Education minoring in Health Education, Adaptive Physical Education and Coaching. I taught physical education for 13 years in Laona, Valders and Chilton. I received my Masters from Marian University in Fond du Lac (2006). I am starting my 13th year as a school administrator, working in Suring, Manawa and Menominee Indian.
During my 25 years of education, I have been very involved in my communities as well as coaching many sports, such as basketball, football, track and volleyball. Right now I serve as a member of the WIAA Board of Control. I have two sons Marshall and Jackson, who both attend UW-LaCrosse. When I am not working, I enjoy sporting events, movies, being at the lake and being with family.
As your new administrator, I plan to embrace all that the School District of Florence Country has to offer, not only our students but our community. The district has a rich tradition in academics, athletics and other extracurricular activities, not to mention one of the top Fab Labs in the state! I look forward to embracing all that Florence has to offer and continuing the goal of Positively Affecting the Lives of Children.
We Positively Affect the Lives of Children by providing opportunities that expose students to a variety of academic and extra-curricular offerings. I want our students to have the best experience possible in and out of the classroom. Working with the dedicated staff here, I know we can make Florence a place where everybody can feel right at home.
If there is anything specific you are looking for or would like to know more of, please contact me directly at morrink@myflorence.org and I'll promptly reply or direct you to the individual who can best help you.
Yours in Education,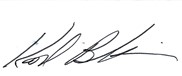 Karl B. Morrin
District Administrator
School District of Florence County